#bOObs for Life is a compilation of visually portrayed stories about physical trauma, personal struggle, survival, and the celebration of life. The exhibition is the fruit of the collaborative work of photographer Sylvia Kouveli and artist Ted Meyer, presented with the support with the American Cancer Society.
Sylvia's work for breast cancer awareness in young women is a series of bold photographs depicting the diversity of female chests. It is meant to motivate the subject, as well as the viewer, to proactively monitor their breast health. #bOObs aims to inform and educate women, regardless of their medical history, while providing a safe space for open conversation within the community, both in the studio and on social media.
Ted creates artwork from scars that celebrate strength and survival. Through his art-making, photography and stories, Ted portrays the beauty and humor of physicality while exploring narratives of the human condition. Scarred for Life consists of artistically enhanced monoprints taken directly from the scarred skin of his subjects. Each image tells a unique story of medical crisis, resilience and healing.
These two projects come together in #bOObs for Life to create a unique visual journey and explore health, trauma and healing through breast cancer stories and informative material.
ABOUT THE ARTISTS
Sylvia Kouveli is a photographer with a fascination for visual sociology. She works on projects that build awareness and enhance inclusion in a social ambience and through collaborative social action.

Ted Meyer is a nationally recognized artist, curator and patient advocate who works with patient artists, students and medical professionals to tell stories of how illness has affected lives, not only negatively, but often positively.
Ted and Sylvia met two years ago in Athens, Greece and immediately connected as they found common ground in their respective works. An artistic patient advocate and a breast health advocate come together to explore narratives of the human condition such as self-identity and mortality, as well as ideas like denialism, physical and cultural taboos, and aesthetic norms.
ABOUT THE GALLERY
The Perfect Exposure Gallery is the recognized venue in Southern California to display the work of award winning and accomplished photojournalists as well as works of photographers that regard artistry and craftsmanship as a standard of excellence.
The mission of the Perfect Exposure Gallery is to present exhibits free of charge to the general public with the following goals to exemplify the rich variety and impact of photography, freedom of expression, a forum for the aesthetic, the contemptible and the sublime.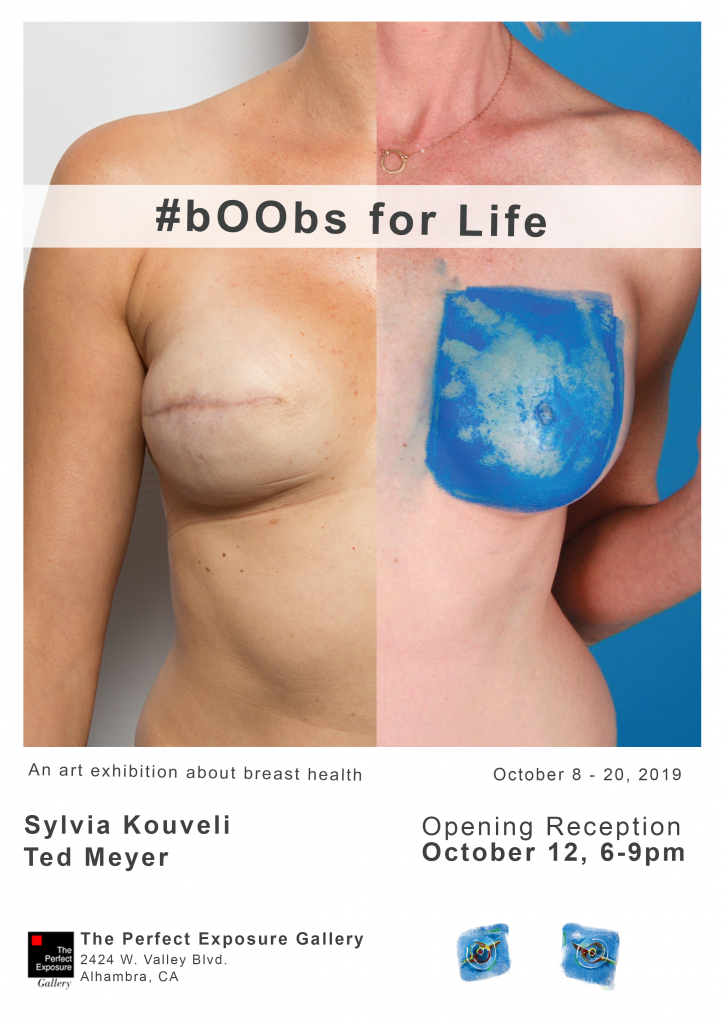 Exhibition dates: Tuesday 12, October 2019 to Sunday 20, October 2019
Opening Reception: Saturday 12, October 2019, 6pm – 9pm
Click here to find out more about the #bOObs project.
Click here to see a video on the Scarred for Life project.