Since so many of you have asked me to be part of the #bOObs project, but live too far away for me to photograph you, I decided that…
In August the #bOObs Instagram account (@boobs4prevention) will be YOURS!
Show your #bOObs & tell your story.
You can remain anonymous or reveal all! Your choice!
HOW TO:
1. Find a white wall.
2. Take a photo of your boobs square on.
(It can be in a neutral or expressive pose.)
3. Write about your boobs.
Anything you want to say!
4. Send it to me via DM or email.
(DM me for my email ????)
Make sure you check out the #bOObs Show & Tell Instagram Stories here!
UPDATE
Here's a sneak peek at some of the follower submissions: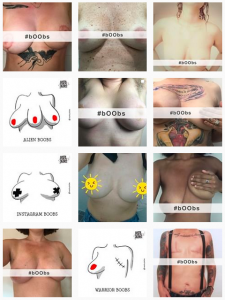 Visit the project's Instagram account and read each woman's story in the caption below each photo!