I had the absolute pleasure of meeting journalist Dimitra Tsigene and photographer Francesca Watkinson from LadyLike, whom I welcomed at my studio where we had a wonderful chat about the #bOObs project.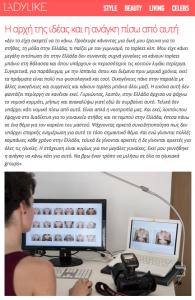 We spoke about how it all started and why I felt the need to do this project, its implementation and the importance of doing the photo sessions in groups (with the photos shot privately). We discussed why the project is anonymous, not showing any faces, making women's chests the protagonist and the overall aim of #bOObs.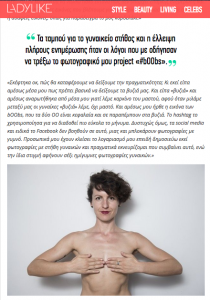 Then, we took some photos for the magazine, recreating the project's aesthetic, where I was placed in front of the lens.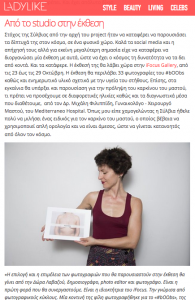 Here is the full interview in Greek (you're welcome to use your browser's auto translation feature to get the gist of the story) with Francesca's lovely photos: LadyLike interview
Last but not least, I invite you to my first solo exhibition, where you can get an up close and personal look at the #bOObs project.
Opening night: Tuesday, October 23rd at 8:30pm
Duration: October 23 – 29, 2018
iFocus Gallery | Akadimias 57 & Ippokratous 13
Don't miss the opening night, where Dr. M. Philippidis, Gynecologist and Breast Surgeon at Mediterraneo Hospital, will speak about what we all need to be aware of at different stages of our lives when it comes to breast cancer and ways to prevent it.