Opening night: Tuesday, October 23rd at 8:30pm
Duration: October 23 – 29, 2018
iFocus Gallery | Akadimias 57 & Ippokratous 13
Don't miss the opening night, where Dr. M. Philippidis, Gynecologist and Breast Surgeon at Mediterraneo Hospital, will speak about what we all need to be aware of at different stages of our lives when it comes to breast cancer and ways to prevent it.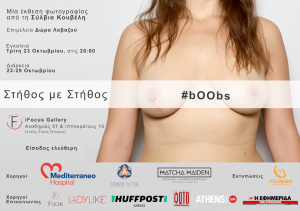 UPDATE:
Take a look below at some of the snapshots of the opening night.
More photos here.