Now, there's an easy way to do things and there's a hard way.
Choosing the "hard way" to reach the highest point of Greece is what we did with my team, but I can assure you that it was rewarding.
Here's the breakdown

Wake up call: 5:00 am
1 hour drive from Litochoro to Krevatia Refuge
Starting point: Krevatia @ 1000 m. altitude
7 hour ascent via the Barbalas path to the Plateau of the Muses
This is what that looked like:
Arrival at the Giosos Apostolidis Refuge @ 2700 m. altitude.
Quick snack, warm beverage and concerned discussions about the weather forecast.
The weather conditions would definitely be worsening over the course of the weekend, so we decided to make the ascent to the Mytikas peak (2918 m.) on the same day and return to Prionia on the following day.
This is what that final stretch looked like:
I dare to confess that those final 300 m. (of altitude) ascending to the peak were the scariest thing I've done in my life. And those of you who know me would probably wonder about that statement, but it boils down to a high risk factor and a lack of a safety back-up.
As for the photos… My trusty Canon G10 is getting old, but I was immensely grateful for its 390 grams of weight compared to the 1.5 kilos of my DSLR!
The next day, we had a pleasant return via the Koftó path to Prionia.
Here are a couple of friends we met on the way:
Admittedly, the path did have its own set of challenges, especially if you factor in the strenuous ascent of the previous day, but it seemed like a piece of cake compared to what we encountered at Mytikas.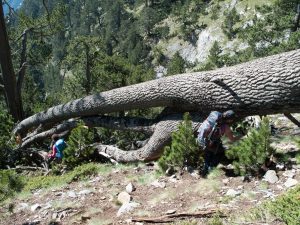 Overall, it might have been tough, but I can't wait to go back!